First Quarter 2018 – We're glad that's over!1
A quarterly broad market drop of about 1.2% isn't particularly bad by historical standards, but it snapped a nine-quarter winning streak. Additionally, and perhaps more importantly, investor sentiment dropped, too. January saw the majority of stock indices continue to march to new highs. Rising interest rates, worries about potential tariff wars, and the surprising weakness of technology stocks induced by regulatory concerns introduced market volatility and a nearly 10% correction in February. March saw a rebound from February lows with the S&P 500 finished down -0.76%. An unusual backdrop to the level of decline in February was the growth of corporate profit estimates for 2018. According to FactSet, the 2018 consensus earnings-per-share estimate for the S&P 500 index rose 7% in the quarter, to $157.77 from $147.24 at year end, the largest first-quarter increase in the annual EPS estimate since FactSet began tracking it in 1996. 2
Click here to download our entire Capital Markets Review with index returns, topical charts and graphs of interest.
US & Global Economic News
February US Core Personal Consumption Expenditures (PCE) reading, the Federal Reserve's preferred inflation measure, came in slightly above consensus expectations at +0.23% month over month. Core PCE now stands at +1.6% YoY, its highest in a year. US GDP for the Fourth Quarter 2017 was revised up to 2.9% YoY from the prior reading of 2.5%. The upward revision was led by higher consumer spending during the holiday season and inventory levels better than the market expected. Consumption, which drives roughly two-thirds of economic activity, was revised up to 4% from the prior reading of 3.8%.
There was no shortage of political news that impacted investment markets during the first quarter. Of the biggest consequence was the use of trade tariffs on steel and aluminum coming to the U.S on March 1st. On March 22nd, Trump signed retaliatory tariffs on up to $60 billion of Chinese imports, including components used in aeronautics, technology and energy industries.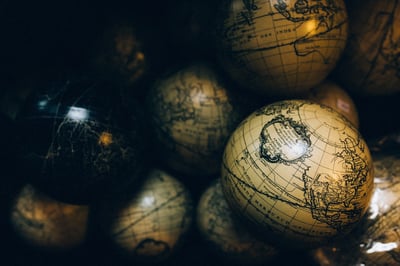 Image by Free-Photos from Pixabay
Equities and 1% Moves 3
US Equities hovered around a neutral return at the end of the first quarter. Growth Investing trended better through the start of 2018 as Large, Mid and Small Cap stocks finished north of +2% returns while Value Stocks struggled by losing between 2 – 3%. During Q1, there were 25 daily moves of +/-1% or more, twice as many as the recent historical average for that period. By comparison, during the whole of 2017 there were only 10 trading sessions when the DJIA posted a move of 1% or greater (4 to the downside, 6 to the upside). That was the lowest total since 1964, when only three such moves were recorded for the entire year.
Fixed Income
Fixed-income performance in the first quarter was decidedly negative across the board driven by the increase in interest rates across the entire yield curve and widening corporate credit spreads. The increase in the federal-funds rate following the March Federal Open Markets Committee meeting was well-telegraphed, but the markets were shaken by the increase to the Fed's projections for further rate increases over the next two years.
If you enjoyed this blog, be sure to check out these others:
Who Pays The Retirement Plan Fees? 4 Tips To Help You Decide
Guidance Point Retirement Services: Bad Fits
How Much Does a 401(k) Plan Cost?
References:
https://www.barrons.com/articles/dow-gains-569-points-but-falls-for-the-quarter-1522454402?mod=hp_mag

3. S&P Dow Jones Industrial Average Report Card – Q1 18