Who should we not work with at Guidance Point Retirement Services? What types of clients would we describe as "bad fits"? This is a question that we receive from time to time from our prospects. It's a question our team debates about whether to answer on a blog. "We certainly don't want to scare away potential clients, right?" But ultimately, we feel we want our clients to be a really great match for our team and how we work. If clients are asking us to do things that are not our strengths, or we're simply not interested in performing, it leads to us not providing the best customer service we possibly can. It's tough to fake it when you're not passionate about the client or their needs. The point of this blog series is to write as openly and honestly as we possibly can. If we don't answer the hard questions, we're simply not being honest with you, and YOU are the reason why we write.
The Client That Never Wants To Meet
We've heard from our peers that this is the perfect type of client. The consultant gets paid their retainer fee and never has to show up to the client to do any work. Perfect, right? Honestly, for us it's one of the worst types of clients.
Every piece of our work with retirement plans (and other institutional clients) is predicated on having a process where each part of the retirement plan is periodically reviewed and maintained. We believe a lot of the value we bring to every client is maintaining a Fiduciary Governance Process. Much of the process is working with the Committee how things are working or not working (for example: measuring vendor performance, measuring the performance of the investments, benchmarking the fees of the plan, improving the retirement readiness of participants, etc).
If the client does not prioritize the time to continually measure and maintain their retirement plan, it shows that this is the type of plan where there may be increased liability due to a lack of oversight and most likely employees are not engaged with adequately saving towards retirement.
An Organization That Doesn't Value Governance
When engaging with prospects and asking about their governance process in place, we continually ask the question, "Why?" For example, "Why do you have this particular investment or group of investment offerings?" or "Why did you decide on this match formula? Is it the best one for you?" The majority of the time the answer is "I don't know why."
This isn't a mark against the committee and the sponsoring organization, it is a sign that the committee didn't undertake a process to answer "Why" in the decisions they've made. The organizations with strong governance on their retirement plan committee generally has a culture that values process and is always thirsty to continually improve. The organizations that hire us want an improvement in their Fiduciary Governance Process. They know that their governance system is weak in regards to their retirement plan and they want to improve it.
The organization that doesn't value governance usually doesn't understand that the statement, "I don't know why" could be problematic, especially in a plan audit from the Department of Labor.
If you're struggling with your own fiduciary governance process and looking for best practices, please download our free eBook "Fiduciary Responsibility Guide".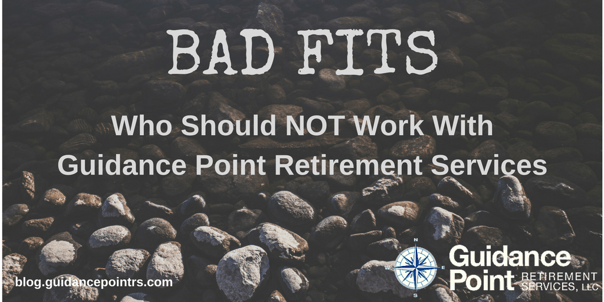 The Client That Buys on Brand Recognition
Obviously, our preference at Guidance Point Retirement Services is that clients are hiring us because of the level of expertise with institutional consulting, our experience and credentials, our pricing, and they could see themselves working well with our team. There are times though that this is not the top priority to a decision maker(s) at an organization and they are hiring their consultant due to a firm name they've heard of before. If this is the decision-making process of the client, then unfortunately we probably not be a good fit for how our team would work with the committee and help to augment their decision-making process.
There's a saying in real estate that there's "a house for every mouse". And this is certainly true when picking a retirement plan consultant. Making sure that your service expectation, governance culture, investment philosophy, and values are aligned with who you choose to advise your plan is very important. Also, for us at Guidance Point Retirement Services, we also want to make sure that our clients are fits so that every client past, present or future gets the best of us all the time. That's what they deserve, and that's what they should expect.
If you're struggling with your organization's fiduciary governance process, please download our FREE eBook "Fiduciary Responsibility Guide".
If you liked this blog, you may also enjoy the following:
Improving Plan Operation, Cost, & Investment Structure: A 401(k) Case Study
Strengthen Your Governance with a 403b Fiduciary Governance Checklist