Our research team recently met with our dedicated Vanguard External Sales Representative, Kelly Orr. Kelly shared and discussed with our team Vanguard's "How America Saves Study". This report "analyzes the retirement savings behavior of more than 4 million plan participants and serves as a valuable reference tool for retirement plan sponsors. The report offers useful insights into current issues affecting defined contribution (DC) plans, including employer contribution trends, automatic plan features, use of target-date funds, and use of advice services."(Source: Vanguard How America Saves 2017)
What is remarkable about this report is the industry specific information available. The ability to select your industry for comparison, or even enter in your own plan data to create a custom plan benchmark is an excellent feature. Kelly is one of the best sales representative with whom we've worked. We thought that the conversation was truly interesting and wanted to share the study with you, a Retirement Plan Sponsor, and our top Three Retirement Plan Trends from the 2017 edition.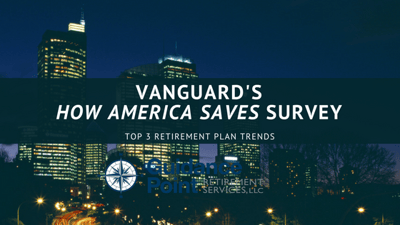 Retirement Plan Participants continue to grow their adoption of professionally managed accounts, specifically Target Date Funds.

As 72% of participants in the study are currently invested in TDFs, and 2/3rds of participants owning TDFs have their entire account balance in a single TDF, Retirement Plan Sponsors & Advisors may need to shift the amount of time they spend on analyzing the fund options in their plan relative to the dollars allocated in the plan. Historically, Plan Advisors spent an equal amount of time on every fund option in the plan with more time spent on failing funds. As the managed accounts, specifically Target Date Funds, continue to command more of participant dollars and increase in complexity, Sponsors should demand more information and analysis on these funds and the fit for their participant base. To understand more about analyzing target date funds and their fit with your plan, you can download our eBook below:


High Level Savings Metrics are getting worse!

How is this possible? Participant confidence is high and equity returns have been very supportive to retirement plans for quite some time. As plans are adopting automatic features, such as Automatic Enrollment, the plan level statistics such as average savings rates are going down since defaulted savings rate generally start at 3%, which is less than plan median of 5% in 2016. Of course, this statistic would improve over the next few years if automatic escalation of deferral rates were to be paired with auto-enrollment. Two thirds of Vanguard's Auto Enrolled plans also had the auto escalation feature. Note that average account balance would be also declining as new participants are being enrolled in the plan at a lower or starting account balance.

Participant trading is starting to become non-existent.

In 2016, only 8% of plan participants traded within their accounts and only 2% of single TDF investors traded in 2016. Additionally, only 1 in 10 participants had an extreme asset allocation in 2016 – either 100% invested in equities (6%) or cash equivalents (4%). The study believes that the muted trading can be partly attributed to the adoption of TDFs in retirement plans, while our team would also point to complacency provided by a long running (and low volatility) bull market in equities.
If you'd like to download the 2017 survey, it is available to you as a Retirement Plan Sponsor. You can download it here.
Other blogs to consider:
The 3 Questions an ERISA Compliance Checklist Will Answer